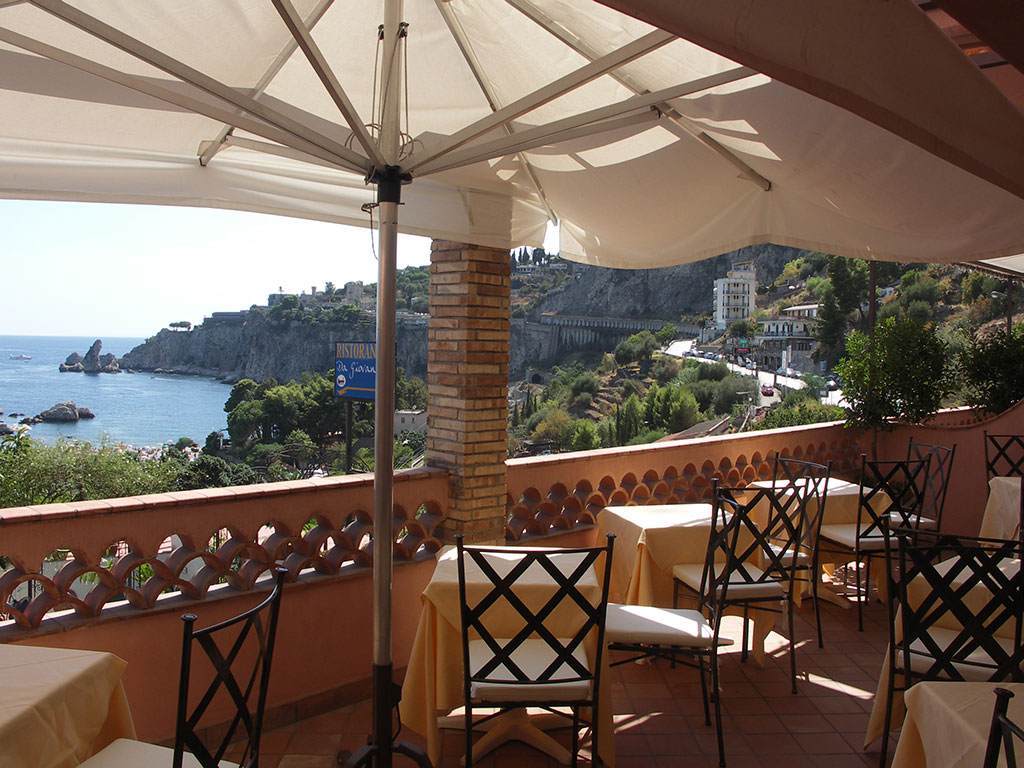 Overlooking the enchanting Isola Bella, the 3-star Mendolia Beach Hotel in Taormina is the perfect choice for a vacation immersed in the relaxing atmosphere of a warm and comfortable building, just ten minutes from the historic center.
The friendly family management and the convenient access to the private beach are just a few of the aspects that make the hotel a preferred destination for lovers of the sea, art and hiking trips on some of the most beautiful nature trails.
The reception staff at Mendolia Beach Hotel, available from 7 am to 8.30 pm, can book guided tours, excursions and tickets to shows and events that make Taormina one of the world's most sought-after tourist destinations, every season.
A few meters from the thin strip of land that connects Isola Bella with the mainland, the hotel offers a full-service Beach Club, a private beach with beach chairs, umbrellas (beach services not included in July and August), a snack bar and an excellent restaurant where you can enjoy the best Sicilian seafood specialties.
Breakfast (8.00 – 10.00 am) is available on request and our guests the day before can request it and will be able to enjoy it the morning after  at terrace of the room an extra cost of € 9,00 per day per person (the service can be booked directly in hotel).
After descending the short staircase to the beach of Isola Bella, guests of the decade-old Mendolia Beach Hotel will find a comfortable beach chair with umbrella, a beach towel, a locker room and showers, all free! (For those who book directly from our official website). The ideal setting for a relaxing, fun day by the sea. In addition to the restaurant, there is also a snack bar that sells "arancini", or rice balls, pizzas, toast and sandwiches for a tasty, satisfying snack.
Sicily and Taormina offer several options for enjoying the sea. The nearby diving center allows you to go underwater in search of Roman columns in the bay of Isola Bella, a preferred area also for snorkeling. At the hotel's reception area you can also book sailboat trips on beautiful 12 meter-class boats. You'll also find activities such as paragliding (in Letojanni), tennis, soccer and a gym.
For lovers of golf, just 35 minutes from the hotel (in Castiglione di Sicilia), you'll find Golf Club il Picciolo, with 18 holes, immersed in the landscape and characteristic vegetation of the area.
Those hoping to get acquainted with Sicilian specialties can sit down to lunch at the seaside restaurant to taste the dishes of expert chef Angelo – Spaghetti with Clams, Grilled Fish Rolls, Linguine with Lobster and much more –  always accompanied by a specially selected bottle of wine (Nerello Mascalese, Nero d'Avola or the exquisite white wines of the Trapani area).
Services and Facilities
Reception (7 am – 8.30 pm) ·
Free private beach if you reserve direcly in our official web site ·
Tourist information ·
Booking for excursions ·
Booking for guided tours ·
Concierge ·
Left-luggage office ·
Fax service ·
Airport/train station transfer* ·
Wi-fi free ·
Elevator ·
Parking* ·
Hall ·
TV room ·
Terrace ·
Indoor dining room
* at an additional charge